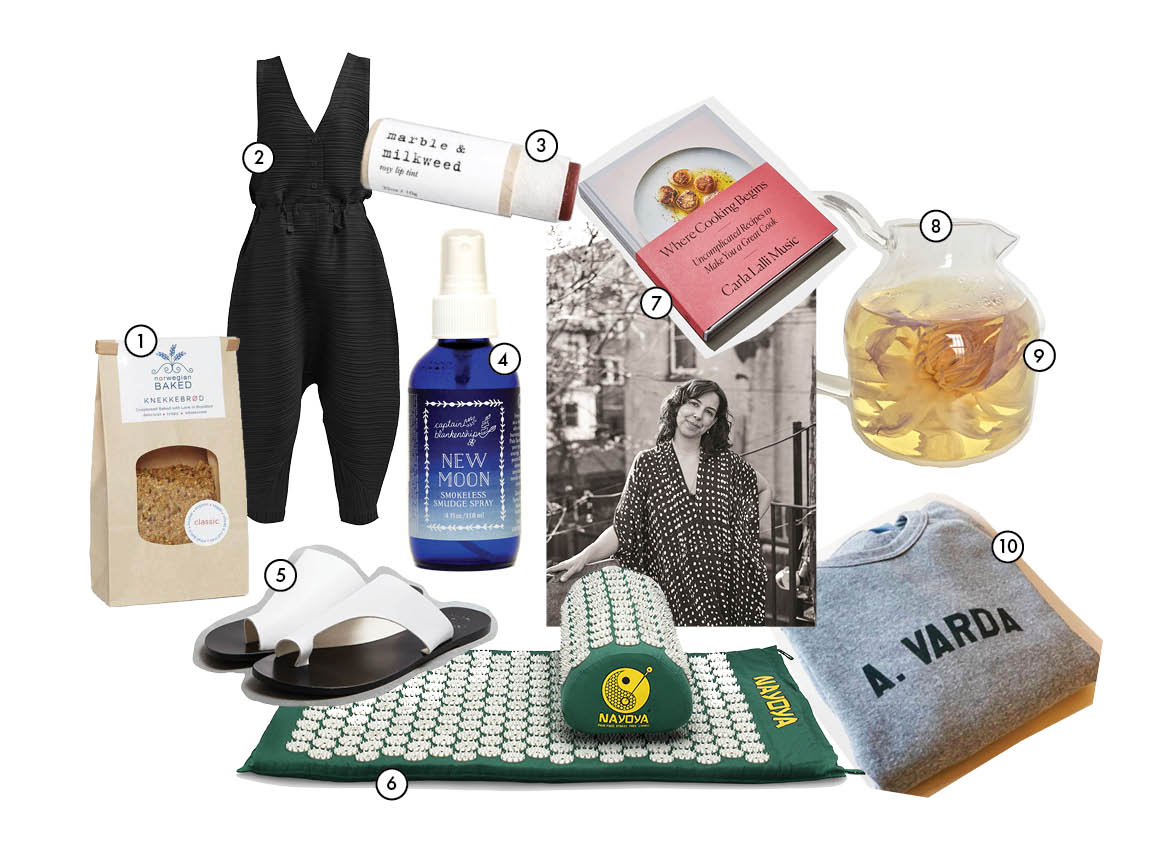 1/ Norwegian Baked Knekkerbrød
Last summer I was putting all manner of spreads on paper-thin carta di musica. This summer, it's these thick, addictively textured crackers, packed with all manner of seeds. Healthy!
No longer just for BAM gala moms, Issey Miyake's Fortuny-esque line has made its way back to cool. (See Sies Marjans' S/S collection.) This nutty jumpsuit is a marvel.
3/ Marble & Milkweed Rosy Lip Tint
Why have I put a berry tint in every newsletter? Because I love 'em and lose 'em. Made from coconut oil and beeswax and colored with rose and hibiscus, this organic matte (!) balm smells pretty, too. I found it at the delightful shop Love Henry, which is worth a visit. Or order directly—lots to explore on this East Villager's site.
4/ Captain Blankenship New Moon Smokeless Smudge Spray
Clear the air with this witchy mist of palo santo and sage. It's made upstate by a woman who was able to quit her city job and move there full-time to focus on her organic beauty line. #dreamz
For the structured hippie.
Productive torture. My friend Anya sent me this nubby mat and pillow to help me relax, and I think it works!?! I stand on it while stretching in the morning, and lie on it while reading before bed so it can allegedly increase bloodflow to help with sleep, back pain and headaches. I've been sleeping like a teenager.
Bon Appétit food director Carla Lalli Music's new book uses her decades of restaurant, test kitchen, and home cooking experience to help make you a confident,  effortless-seeming cook, too. Every time I make her incredible faux-tisserie chicken recipe, I have to remind myself that she's the genius.
Love this modern glass beauty from the Danish company behind my favorite soap, made from coal. (More on that in newsletters to come.) The binchotan (not shown) filters the water for a clearer steep.
Pure beauty: A single bloom makes for a delicately delicious tea. I saw founder Lisa Li floating her chrysanthemum, rose, and lotus flower teas (shown here) at the Wing during development, and had to ask. 
10/ Nature Is an Object sweatshirt
My friend Jay gives good gift. Last Christmas, it was an L. Bourgeois sweatshirt from L.A.'s Nature Is an Object, designed to look like an old gym shirt. Love this Agnes Varda, too, and also have my eye on the A. Coltrane.