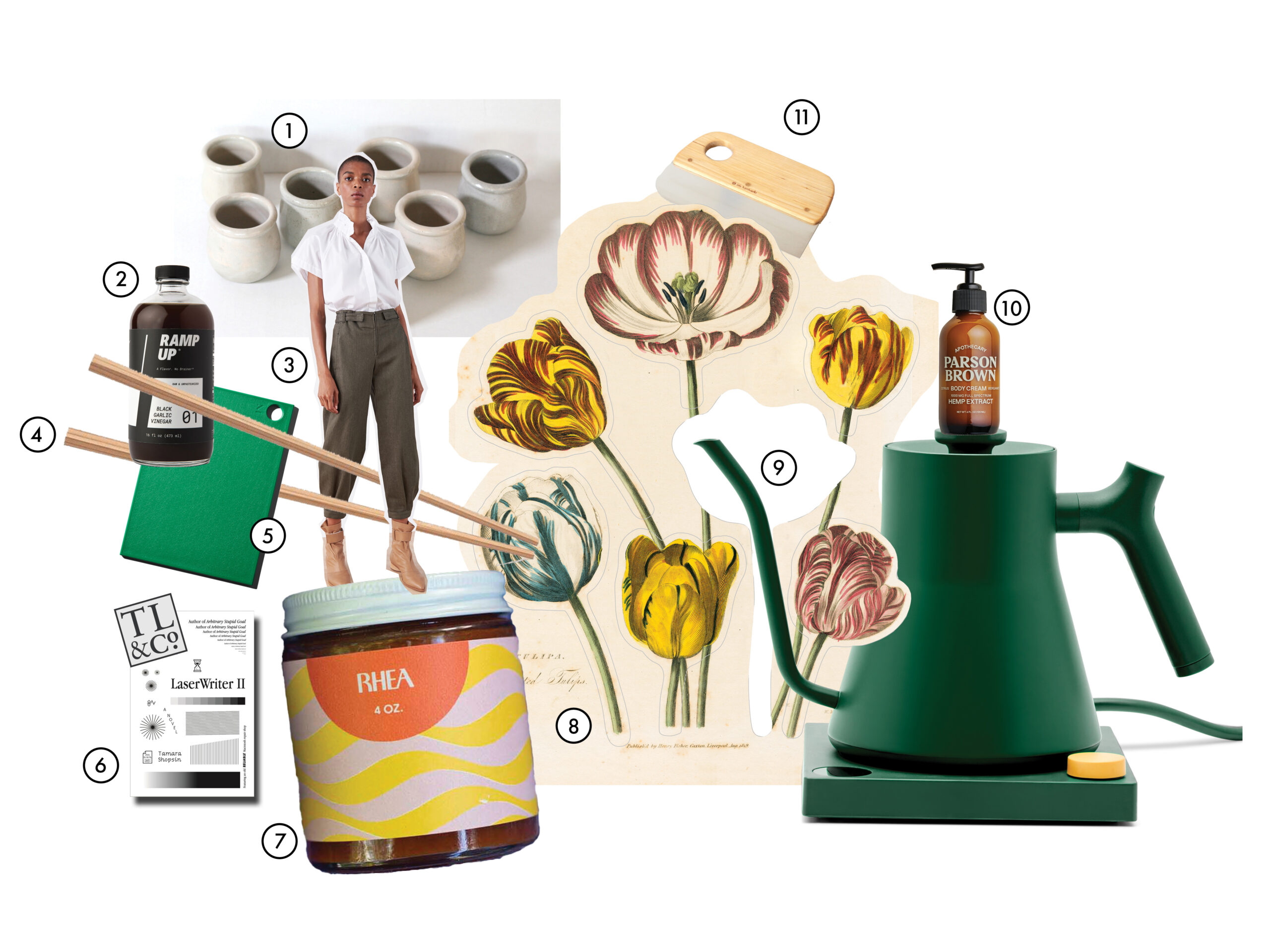 1/ French Stoneware Yogurt Pots After bringing back (empty) glass yogurt pots from France for years, these pottery catchalls are a much nicer place to put change, toothbrushes, makeup, etc.
2/ Ramp Up Black Garlic Vinegar Not too sharp, not too sweet — but definitely garlicky — this small-batch vinegar transforms vinaigrettes into something extra.
3/ Zero Maria Cornejo Flight Pants Skinny jeans, R.I.P. Gift a pair so unique, they'll never go out of style. ZMC continues its commitment to locally made, sustainable clothing with an eco denim made from 10% post-consumer waste organic cotton using a biosynthetic dye derived from agricultural or herbal waste. Most importantly, the waistband is adjustable.
4/ Azmaya Bamboo Chopsticks For the ultra-minimalist on your list. These handmade bamboo chopsticks look plain at first sight, but elegantly taper to just 1mm thick. The packaging, too, features subtle details that will have Japanese design lovers in (silent) tears. On the decadent end of the spectrum, these French-made chopsticks are beautiful IRL.
5/ Material reBoard Cut and color takes on new meaning with these cutting boards, made from sugarcane and recycled kitchen plastic. I'm giving them in Sand (bright yellow) and Reimagine Justice (green).
6/ Three Lives & Company Book a Month Club x LaserWriter II Tell the staff at the West Village bookstore what the recipient loves to read, and they'll intuitively select and send them a book each month. Discoveries await — like the debut novel from my hero, Tamara Shopsin. Subscribe to her newsletter, too! Email [email protected].
7/ Rhea Tomato Caramel Abbye Churchill's handmade Maine magic has extended to limited-edition seasonal releases, like this brilliant use of All Those Tomatoes. Spoon onto ice cream or into grilled cheese for instant summer. Almost sold out, she's setting a few aside for Xtine subscribers.
8/ John Derian Sticker Book Featuring over 500 vintage images of flowers, birds, beetles, eyeballs and more, this collectible sticker book isn't just for the kids on your list. I bought one for myself to decorate presents in an attempt to distract from their shoddy wrapping.
9/ Great Fellow Kettle Great Jones partnered with Fellow to create this limited-edition pour-over Stagg EKG kettle. Built-in temperature control and timer means you can bring it to just the right boil for your tea — or, okay, coffee — type.
10/ Parson Brown Body Cream This soothing, full-spectrum CBD lotion has a just-right scent thanks to Florida-grown bergamot and neroli. Massage onto computer-stiffened neck…
11/ Iris Hantverk Dough Scraper For those still on the sourdough, treat them to a better bench scraper — this one made by the 100-year-old Swedish company that trains visually impaired craftsmen. I fell for this line at La Trésorerie in Paris, and am happy that Flotsam + Fork carries it, along with many other treasures I'm gifting, like their tiny crumb-sweeper.