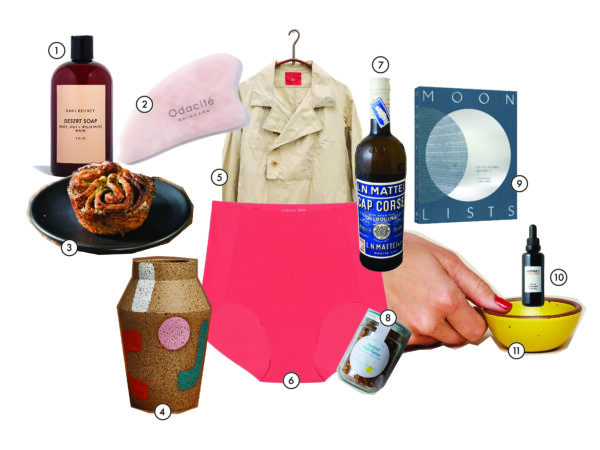 1/ Dani Kenney's Desert Soap purports to be for body as well as dishes and "wilderness" (good luck getting that clean), but this palo santo–scented liquid magic has yet to make it out of my shower. Thanks to @chardrucks for the gift!
2/ At dinner one night, my friend Ali gave everyone a quartz gua sha facial massager thingy. The Chinese technique purports to stimulate lymph and firm shit up, and is also a good way to help facial oils penetrate the skin. She swears by hers, and I'm close behind her. I learned more in i-see, the Asian-American beauty newsletter, co-founded by former T colleague Bifen Yu.
3/ It's hard to choose just one pastry at High Street on Hudson to highlight: Melissa Weller is clearly having fun. Lately, I've been fixated on her buckwheat kouign-amann, a buttery treat with an earthy finish. Buckwheat for president!
4/ When Marian Bull isn't writing about food for the New York Times, GQ, and others, she's making cool pottery like this graphic vase.
5/ I can't tell you how sad I am that this crisp cotton Trooper dress at M. Crow will never go on sale. Then again, it will never go out of style…
6/ Uniqlo does granny panties! These seamless coral briefs have sold out, but they introduce weird-enough colors regularly. Why date when you can be comfortable?
7/ Cap Corse is a bracing, herbaceous aperitif that is great over ice with a splash of soda. More sweet than bitter, it's gotten me off of Campari. Thanks for yet another perfect hostess gift, @jstrell !
8/ These incredible smoked chile flakes come from a tiny Greek village and are exported by the delightful Daphnis & Chloe herbs. I always have a jar on the kitchen counter, and even carry a little tin in my bag. Is that weird?
9/ This beautiful, lo-fi workbook from the multi-awesome Leigh Patterson prompts you to look at the world differently between new moons. I super love her Moon Lists site, too, and was honored to have contributed a few summers ago.
10/ Jane Larkworthy at The Cut recently asked me what beauty products would be on my ultimate tour rider. A gallon of Vintner's Daughter Active Treatment Essence, for sure. It's vertiginously expensive and I'm pretty sure it's just Bragg's apple cider vinegar, but it brightens my skin like nothing else. Besides, I only use a few drops at a time, so it lasts forever…
11/ I recently replaced the boring white salt cellars near my stove with East Fork Pottery's pinch pots in Pollen Yellow. Okay, it was a summer-only color, but I'm also liking it in Celery.