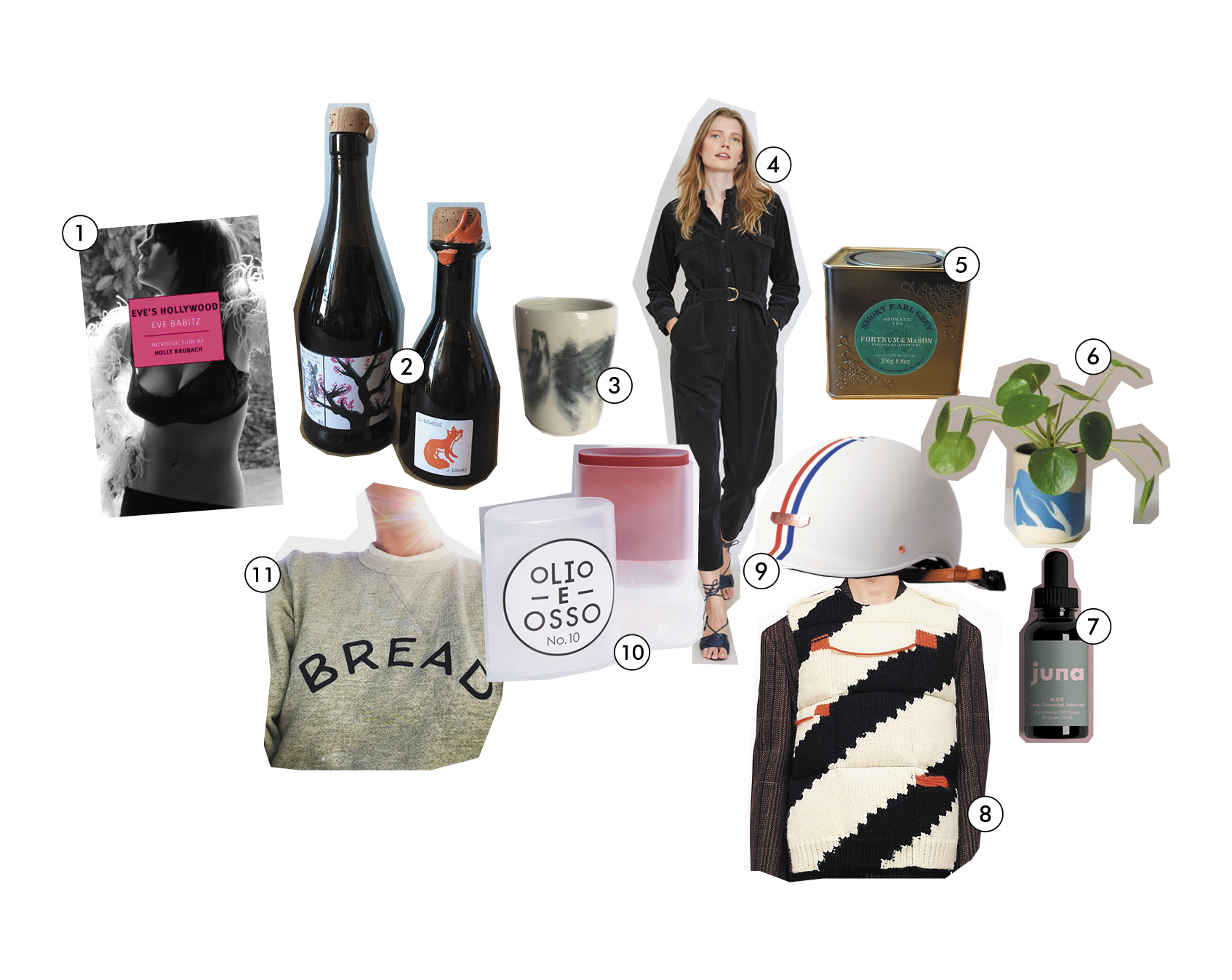 1/EVE'S HOLLYWOOD
Eve Babitz's poignant, dishy essays on 60s/70s L.A. are as addictive as the speed she was gobbling.
2/NATTY VINEGARS
These bright new vinegars from La Guinelle are collaborations with cult French natural winemakers. I love the Zaza (rosé) and Bornard (an oxidized white). Chefs at restaurants like Frenchette seem to agree! To order, email [email protected].
3/ERICA CHENG CUPS
Name-drop alert: Helena Christensen hostess-gifted these ceramic cups to a friend and I flipped. Cheng makes them for her sister's West Village coffee bar, The Elk, which has a stylish selection of non-coffee merch. Available in-store only.
4/KOEN FLIGHT SUIT
It's a jumpsuit — excuse me, flight suit. And it's corduroy. Apiece Apart, you get me… Barrage them with reorder requests! (Or try this one.)
5/SMOKY EARL GREY
Fortnum & Mason's Smoky Earl Grey combines the smokiness of lapsang souchong with the floral prettiness of the OG EG. I used to ration my London stash until I discovered it at Williams-Sonoma. It still feels special.
6/HELEN LEVI PLANTER
Loving this limited-edition planter collab (and Pilea Peperomiodes) designed by Helen Levi for the ladies at The Sill, who are busy bringing "plant parenthood" to all. (I swear I added this before the Styles story ran!)
7/JUNA NUDE CBD TINCTURE
This month's mellow. Created by a former pastry chef and sommelier, it's one of the few tinctures that tastes as lovely as it makes you feel.
8/CALVIN KLEIN VEST
This reality-shifting men's vest is vomitously $$$, but I'm tracking it on sale.
9/EPOCH HELMET
A flattering bike helmet is a rarity. Enter this Hermès-y number.
10/OLIO E OSSO BALM
Swipe this aromatic tea rose balm on cheeks and lips and half your makeup is on!
11/BREAD + SWEAT
100% gluten-free sweatshirt from my friends at Manresa Bread.