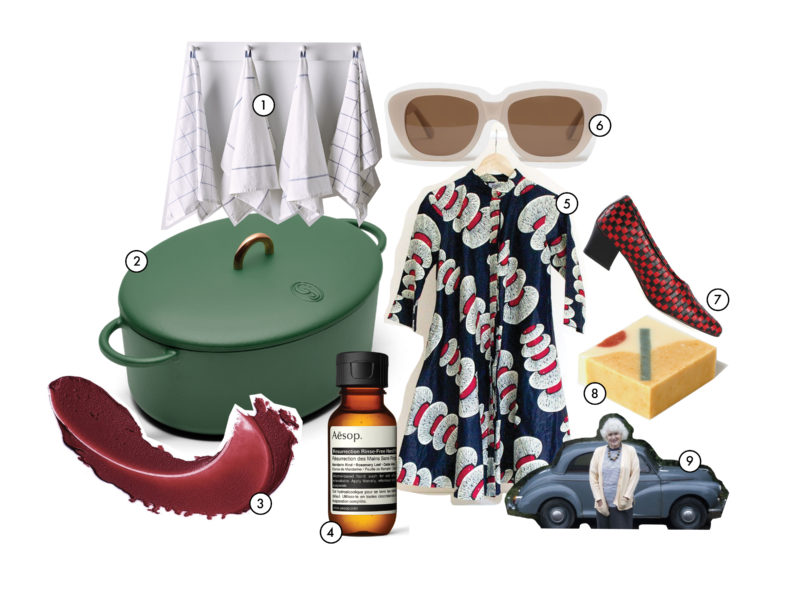 These oversized linen utility towels are like French flea market finds minus the stains — or maybe just a nice upgrade from your IKEA 4-packs.
2/The Dutchess from Great Jones
Loving this Dutch oven in green — excuse me, Broccoli — from my friend Sierra's new company. Le Creu-see ya!
3/Vapour Aura Multi Use Stain Blush
I'm not usually the person who asks what lipstick someone is wearing. But when I saw this on my friend Kerrilynn…
4/Aesop hand sanitizer
The only mom signifier in my bag(s). Smells good while destroying germs (and maybe your microbiome).
5/Zuri dress in Nuclear
These ethically made Kenyan dresses are a welcome stop on the road to full-time caftan life. (I'm almost there. How about you?) Limited-edition patterns drop weekly.
6/Beryl sunglasses
A collaboration between the fearless fashion label A Détacher and the fearless framemaker Carla Colour. Also loving them in nori (a.k.a. green). Nori!
7/Ruby Pumps
Maryam Nassir Zadeh moves out of her pastel mule zone to great 80's effect.
8/Hanaduri JeJu Soap
Memphis-y soap scented with orange, tangerine, and lemongrass. Made by sisters in a Seoul design studio + gifted by my friend Abbye.
9/Jan Morris "In My Mind's Eye"
The Welsh author started these laugh/cry diaries when she hit 90, writing one a day for a year. Read a few before bed and wake up a slightly better person. As she writes in her first entry, "Good luck to me."