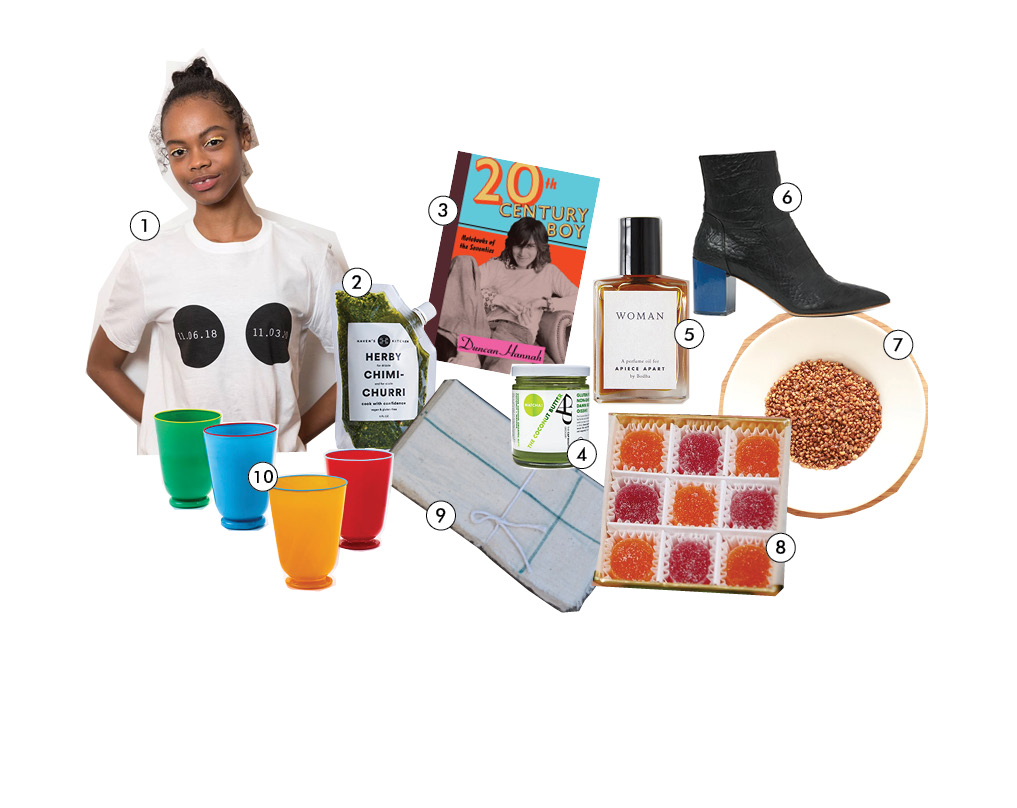 Marlene McCarty for D4D T-shirtSave the dates! Marlene McCarty designed this midterm election reminder for the excellent crew at Downtown for Democracy.
Haven's Kitchen Herby Chimichurri My home-alone meal is either hippie dorm bowl or quick protein with a ton of herbs. And so my friend Ali's new perfectly balanced sauce is salvation in a squeezy packet. What doesn't it go on?
20th Century BoyArtist Duncan Hannah's 70's diaries offer glam and grit, with a culturally omnivorous eye — not to mention some of the best sex writing in ages. I've already gifted 10 copies.
CAP Beauty Matcha Coconut ButterCreamy, buzzy, good on toast (or straight from the spoon), the latest Coconut Butter from CAP Beauty is dosed with matcha. Almond butter, it's been a good run.
Apiece Apart WomanSmoky, rosy, patchouli-y. Better yet: It's a roll-on oil.
Zero Maria Cornejo Cara boots

Something about that painted lacquered heel….

Kettl Nagano soba chaI'll eat buckwheat in or on anything — especially a pouf of mascarpone — or steeped as tea. This stuff, from my favorite Brooklyn tea source, is so high-quality, I sprinkle it straight onto yogurt, ice cream, and salads.
Lord Jones CBD fruit chewsSo….relaxing! These L.A.-made gumdrops are my new pre-party mellowing trick. Also available at the always-on-it Clover Grocery.
Auntie Oti napkinsTurns out Indian men's handkerchiefs make lovely napkins. Discovered in the shop at Westwind Orchard, thanks to Laura Ferrara.
La Double J Housewives Murano tumblersMy friend JJ Martin, an American in Milan, is creating one hell of an Italian lifestyle company. My favorite from her colorful, pattern-crazed tabletop line are these heirloom-quality handmade Murano tumblers, which might actually turn water into wine.