The Moment
A Kind of Pavlova with Tartine's Liz Prueitt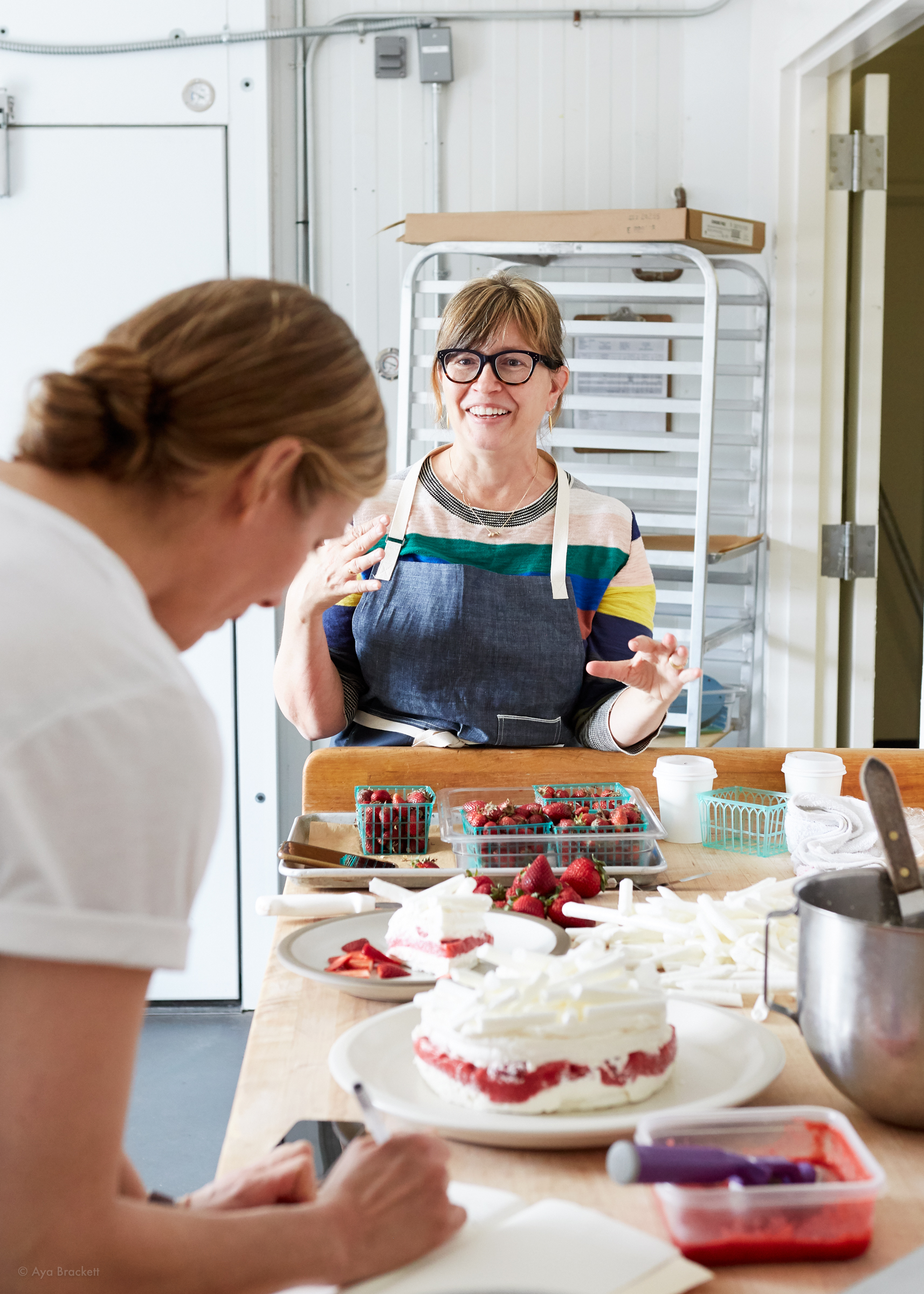 Liz Prueitt is responsible for so much deliciousness — not to mention a change in what deliciousness means. The cofounder of Tartine Bakery and Tartine Manufactory in San Francisco is as known for her best-in-class croissants as she is for being celiac. (She's heard all the gluten-free baker jokes, thanks.) Her platform has grown as the Tartine empire has expanded, which means that her buckwheat sablés and almond cake will be soon be changing palates in Los Angeles, New York, Seoul, and Tokyo. Even at the San Francisco airport.
I've been lucky to interview Liz many times over the years, and her wisdom, resilience, and creativity always inspire me. It has been with great pleasure that I've watched the woman who once dreamed of being a photojournalist turning her (phone) camera on her daily kitchen experiments and becoming an Instagram force in her, like, spare time. Then came her excellent cookbook, Tartine All Day, and expansion plans that seemed to tick off everything imaginable on her wish list for what a space could be. I once joked that after decades of hard work, she'd finally been given the whole toy box to play with. I can't wait to see what she builds from it.  
Late last spring, I got to sneak into Tartine's commissary, across from Tartine Manufactory in the Mission, to watch Liz develop a springy, creamy, crispy new creation. Her take on the Pavlova was spurred by a trip to her friend Gabriela Camara's seminal Mexico City restaurant, Contramar. "Travel inspires me to get in the kitchen," she said. "I'm sitting in the restaurant, dying to get home and try it." What the GF confection became was pure Liz: gorgeous, technically flawless, fucking delicious. The kind of dessert you can only pull off after decades of work and study — and play. How to make a meringue that's less sweet, without compromising the structure. How to set the strawberries without using pectin. How to slice it without sinking the whole endeavor. ("That," she said admiringly, pointing at an offset serrated knife, "That is a tool!")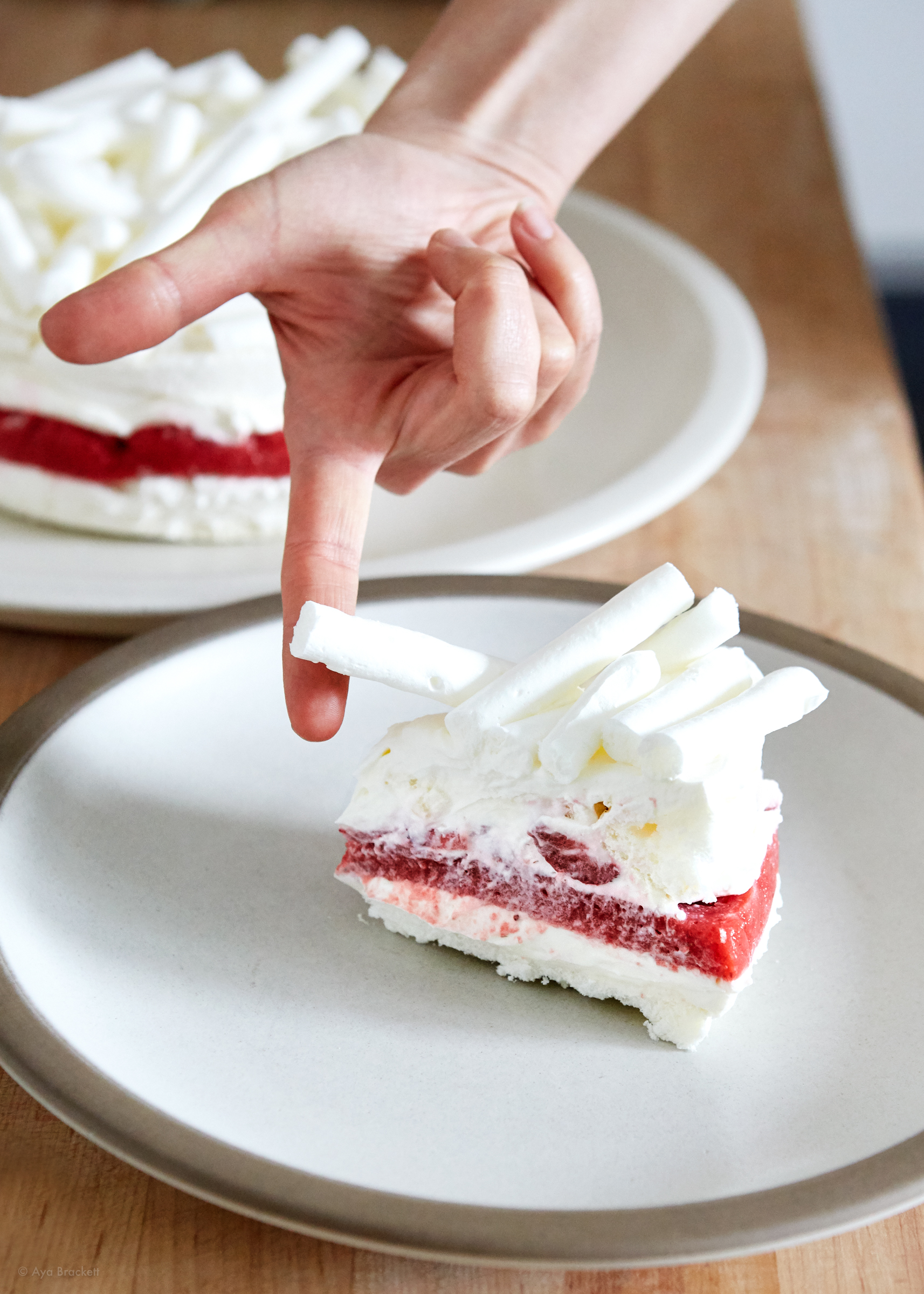 View slide show
"I'll try what I don't think will work at all," she said with a laugh as she spread on another layer of strawberry puree — which, for the record, stayed put using gelatin. It was just one of her surprising, honest comments of the afternoon. For example, when I asked her when she felt she first felt the measure of her accomplishments, she replied, "I didn't feel comfortable with it until five years ago. Or maybe four…" Part of that is feeling capable in her field of work: "You know what you're shooting for, but anyone who has any reasonable sense of success knows this takes awhile… I've done my 10,000 hours, and it's nice when you can think of a thing you want to make, like this cake, and you have all the tools at your disposal and all those 10,000 hours stored in your fingertips and your brain to figure it out and, like, feel your way through it. It's that feeling or understanding of how to work your way through a question or a problem that you create for yourself."
She layered the rods of meringue on top of the cake so they balanced just so, then managed to cut us a seamless slice. It tidily coincided with my question about maintaining creativity in the midst of a growing business. (Tartine will also open a bakery in the San Francisco International Airport this winter, along with Gabriela Camara of SF's Cala, and Pim Techamuanvivit of Kin Khao.) "I think there's some balance that creative people need to have. It's the tension of the things you know and throwing in something in that you don't, because you have to have that element. That's what creativity is. If I'd made this a million times, I wouldn't even be making it for you today!"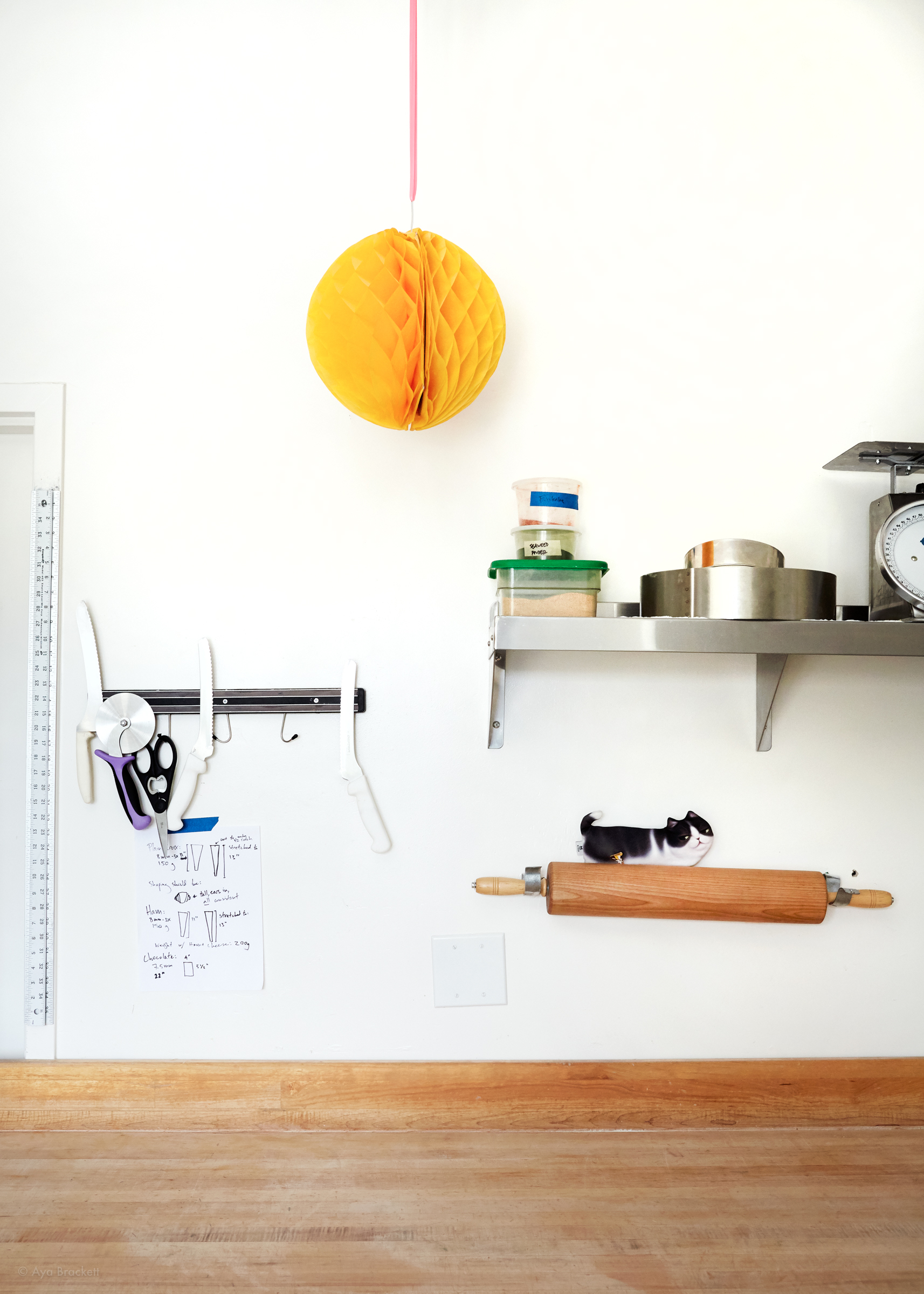 View slide show
And then, reader, we ate the pavlova. Tension, at least in Liz's hands, is delicious.