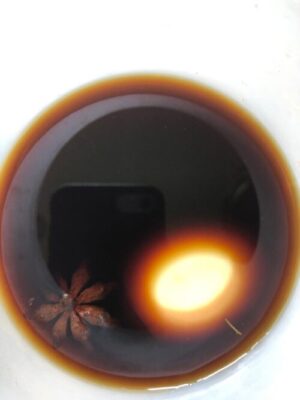 This post originated because I wanted to share recipes from some of my favorite NYC restaurants, which had closed in March. It's taken me so long to get this newsletter out the door that, happily, they're slowly reopening. For those of you lucky enough to be outside the city, here's a taste of King, Té Company, and Shopsin's — the kind of small, labor-of-love restaurants that make the city so great. Please support them, and your local favorites, as soon as you're able.
You'll find the recipe for Té Company's Taiwanese tea eggs here. They serve them both solo for snacking and nestled into their pork bowl. These days, I either eat one standing in front of the fridge or smashed on  crackers.
King's recipe for fresh (or frozen!) pea risotto is adaptable to the veg of the moment. Should you have any leftovers, roll walnut-size balls of cold risotto in flour, then beaten egg, then finely ground breadcrumbs — though I've gotten lazy and just done the breadcrumbs — and fry in an inch or two of oil. (Bonus for tucking a cube of mozzarella into the balls first.)
As for Shopsin's chicken avocado tortilla soup, I've been comforted by it since I started going to the original Bedford Street location. Three spaces later, it hasn't changed. When Eve Shopsin would ask me how spicy I wanted it on a scale of 1 to 10, I'd always say 5. Once I said 6, and she sucked her teeth in pain. I tried it anyway, and have never done it since. So when the recipe says to add spicy peppers, that is totally up to you.