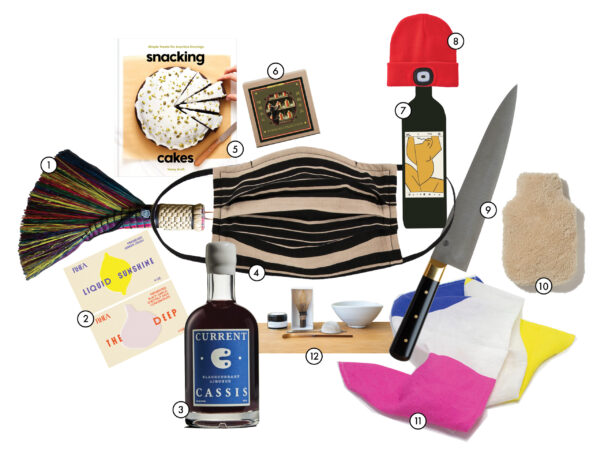 1/ Berea whisk broom
Made by students in the craft program at Berea, the first non-segregated, coed college in the South (we're talking 1855), this colorful hand broom makes the endless cleaning feel a bit…prettier.
2/ Rhea Liquid Sunshine & The Deep
Abbye Churchill's Covid cooking has yielded two great products: A preserved lemon concentrate (because what happens if we run out of lemons?!) and a paste of profound funk, made from fermented black garlic, dates, chestnuts, tamari and aged balsamic. Instant flavor, zero work!
3/ Current Cassis
I've been making kirs for years, but never thought to drink sticky-sweet cassis straight! This new blackcurrant liqueur, made in upstate NY, is mighty fine on its own, as well as in cocktails, kirs and spritzes.
4/ Zero Maria Cornejo x The RealReal mask
My favorite NYC designer teamed up with the site on which I've been selling all of my designer things. It's a mask made in heaven!
5/ Snacking Cakes
Of all of the inspiring cookbooks I reviewed this month, Yossy Arefi's is the one I've been gifting to friends. Every recipe is delicious, one-bowl-simple, and able to be made with whatever rando substitutes you have on hand.
6/ Té Company Formosa collection
A few friends will get boxes and subscriptions from Té Company, the place I miss the most. This set of six teas is a guided journey through Taiwanese tea-making, complete with delightfully illustrated note cards. Me? I'd love the Choicest Tea & Biscuits.
7/ King x Sesti olive oil
I would never buy myself a $65 bottle of olive oil, which means it's exactly the kind of thing I would give a good friend. This limited-edition collaboration between the beloved King restaurant and Tuscan winemaking legend Sesti was just bottled a few weeks ago!8/ Night Scout LED beanie
My upstate friend Sabine gave me my new favorite accessory. The built-in light is perfect for night walks, winter grilling and finding shit in the basement when the generator fails.9/ Living Steel chef's knife
I used to make fun of people (men) who bought $750 chef's knives. Then I borrowed this handmade Swedish knife while working on a project for Living Steel. It's like going from driving a Corolla to a Carrera: Fast, gorgeous, fiendishly high-performing. It's a little scary, TBH. Sign me up for the Big Knife Club!10/ Toast sheepskin hot water bottle cozy
Better than a pandemic puppy.11/ River Café linen napkins
Because I had to cancel that dinner at the River Café in March…I ordered in some of the London restaurant's tasteful neon cheer. (Be sure to look for their solid linen napkins, too. They should be back in stock soon.)12/ Kettl matcha set
Even if you don't pony up for this exquisite gift from my favorite slice of Japan on the Bowery (and, soon, Brooklyn), may I recommend a tin of matcha or a matcha chocolate bar for the stocking?